דבר ראשון שחשוב להבהיר לא מדובר בהחלה מחדש של המטבע או מהפכה. מדובר בשליטה מחדש על המטבע. זה לא פרט שולי. זו נקודה חשובה בזמן התרחשות האירוע, אותה אסביר בעוד מספר פסקאות.
חשבו על זה. אם מישהו שומע שהבנקים סגורים, מה תהיה תגובתו הראשונה? ישנם יותר אנשים שאינם מודעים כלל למצב הנוכחי שמוזנים על ידי השקרים של חוסר היושר הקוגניטיבי.
"האדם פוחד רק מהלא ידוע. ברגע שהאדם מתמודד מול הלא יודע הפחד שהיה בעבר הופך לידע"
החברה שלנו נבנתה על ידי מערת אמונה חומרית.
לכן, יהיה זה אחראי להניח שכאשר הבנק ייסגר, בגלל איזו "תקלה", הפחד הראשוני שלנו יצוף… בצורה קיצונית ומתמשכת.
חשוב לדעת "מדוע הבנקים סגורים". העברת המידע הזו שמסופקת באתר תקל בצורה משמעותית.
יחד עם זאת, על מה בנויה התשתית החדשה? איך אנחנו יכולים להיות בטוחים שהיא תעבוד? איך נוכל להוביל את הדרך ולספק ראיות שהמערכת החדשה יכולה לעבוד?
התשובה פשוטה: איננו יודעים זאת. מעולם לא ניסו זאת בקנה מידה גלובלי בעבר. אך אם תמשיכו לקרוא אספק לכם דוגמאות שזה עובד בקנה מידה מקומי.
עוד נושא שהפך לטרנד במדיה האלטרנטיבית לאחרונה זה או שהשיטה החדשה הזו היא מבית מדרשו של הסדר העולמי החדש, או הזרז לחברה עתידית ללא כסף בעולם אוטופי נדיב, או חברה אורגנית עם ממשלה מבוזרת, שחיים בה יחידים שליטים באחדות.
התשובה במה מדובר: איננו יודעים. זכרו שהאמת היא הנפגעת הראשונה כאשר המלחמה פורצת. אך איננו יכולים פשוט לחכות ולראות. למעשה זה עלולות להיות תוצאות שליליות, תחושה של אומללות כי הדברים לא קרו כפי שציפינו.
יש ודאות אבסולוטית אחת בשלב הזה והיא שהמערכת הנוכחית בשלבי הריסה. התחושה שהיא נועדה להיכשל, אך בקצב כה איטי שייקח לנו נצח שלם להתאושש.
אז מהירות ההרס של המערכת הואצה ורוב החוקרים האלטרנטיביים מנבאים שזה יקרה בסתיו, לאיאוחר מהקיץ הבא, זה כמעט מרגיש שמישהו משאיר להם רמזים לעקוב אחריהם.
גם אם אנו מסכימים על התוצאה של האתחול וגם אם לא, ויש אג'נדה אמיתית מאחורי האתחול, אני מקווה שכולנו מסכימים שהפרדיגמה הנוכחית חייבת להיהרס, ובמובן שהאויב של האויב שלי הוא בן ברית… כרגע.
יהיה זה הכרחי שכל האנשים שהתעוררו כבר, בזמן זה, יסכימו לפחות שהמערכת הפיננסית הנוכחית חייבת להיעלם מחיינו, ושיתחילו להיערך ולתכנן בהתאם.
אם אנחנו לא נתחיל להתנהג כאילו זה כבר קורה, אנחנו תומכים ויוצרים אנרגיה עבור משהו שכבר איננו תומך בחיים על פני כדור הארץ, אנחנו רק מותחים את הזמן עבור מוות אטי וייסורים בחיים. כל זאת עבור תמיכה והידבקות במערכת שכבר איננה משרתת את האינטרס הטוב ביותר של כולם, הגיע הזמן לעבור 'לשלב הבא'.
האם אנחנו יכולים להסכים על זה לפחות?
על אתחול מחדש עם תוצאות שליליות
מה שבלבל אותי היה איך הם מתכוונים להמיר מטבע נייר FIAT למגובה זהב מבלי לגרום להתמוטטות כלכלית, רוצה לומר, כשתהיה קריסה והבנק הפדרלי לרזרבות איננו מגובה על ידי הערכה להתחייבויות שלו, איך "הם" ידאגו שמחלקת ההחזרים של הבנק לא תתרסק כאשר ינסו למכור אגרות חוב של FIAT ואחרות, כדי שהאנשים יוכלו להשתמש בכסף ולקבל את ההשקעות שלהם בחזרה.
כישלון לעשות זאת משמעו אנשים רעבים ונואשים עם מזלגות וזה לא "השלב הבא".
חלק מהבנקים יצטרכו לשרוד כדי שתהיה שליטה מחדש על המטבעות.
וגם איך הם מתכוונים לקשר את ההעברה לשגשוג ולמימון הומניטרי מחשבון ספציפי מבלי שהכסף יהפוך לחסר ערך בעתיד הקרוב?
נשמע הגיוני?
לכן הדבר הראשון שצריך לשים לב אליו "במערכת הפיננסית החדשה" הם פיחותים משמעותיים במטבעות השונים. זה יכלו להוות סממן שהמשחק מבוים מחדש עבור כמה שחקנים מעטים.
דבר נוסף שעלול להתרחש, ובגלל שמעולם לא ניסו זאת בעבר, זו האפשרות שהמערכת לא תצליח לאתחל את עצמה מחדש בצורה הולמת.
אנשים, ברמה פיננסית, אבל לא רק, אנחנו נכנסים למים חדשים שאינם מסומנים. מה שחושפים בפנינו אלו שחושפים זאת, ברובם מסתמכים על ניתוחים סטטיסטיים של הסתברויות על סמך מערכת אמונה מסוימת של ההיגיון הפיננסי.
עד כמה הם טועים? ייתכן שטועים מאוד, אפילו המוכשרים והמנוסים ביותר.
לכן יש אפשרות שהדברים ייצאו מכלל שליטה. אנחנו מתעסקים עם מערכת מורכבת מאוד שתומכת בחיים על פני כדור הארץ, בין יבשתית, מערכת דיגיטלית ברמה גלובלית.
יש בערך מיליון דברים שעלולים להתרחש בדרך שלא ניתן לצפות אותם מראש, לא מדובר בניסוי במעבדה קטנה שמצליחה לצמצם את כל ההתרחשויות לאירוע עצמו. נניח שהבנקים נפתחים מחדש אך התוכנה לא עובדת. לא חסר אפשרויות.
זה יהיה אתחול מחדש שלילי.

אך בעוד שנה, תרצו לקנות ספר באמאזון והם יצטרכו להחליף את היורו שלכם או כל מטבע מקומי אחר בזהב אלקטרוני שמאושר בשנגחאי החדשה או במתקני החלפת מתכת של לונדון, כדי לשלם לספק, ושאתם תקבלו את הסחורה שלכם נאמר שהכול הסתדר.
בגלל זה מדובר בשליטה מחדש על המטבע ולא במהפכה. בגלל שלא אינכם יכולים לחזור למטבע מגובה זהב הישן מכיוון שהערכים החדשים יכוונו מחדש על פי מאזן מסחר האומות והחזקת מתכת יקרה. כך שהם ישתמשו בשרשרת סחורה קיימת כדי להציף בהצלחה את המטבעות הישנים (אנחנו מקווים שביחס של 1-1) ולהמיר זאת לקרדיט זהב או אישורי מסחר בין לאומיים.
ייתכן סטייה קטנה אך לא יותר מכך. זו לפחות הערכה שלי, ייתכן ואני צודק וייתכן ולא, רק הזמן יודע. 
בינתיים
In the meantime, as the "hunger" for imports diminishes (countries scramble to increase internal consumption and productivity to reach a trade balance equilibrium with other countries) the currencies will create a geometric relation between them with more or less fixed rates unless the trade balance changes abruptly.
But here there's a catch. There's just NOT ENOUGH gold to backup ALL trade on this planet. It's barely enough for international trade…
But… but the Resistance stacked up Gold stolen from the Cabal… it may be true BUT it's also true that for a Re-definition of the financial system worldwide they need to price currencies at least between 10.000 to 15.000$ Dollars and € Euros range per ounce of gold… so the gold bugs say.
So you can't just flood all the markets with all of the gold in existence because that would render it useless as collateral. If you flood the market with that amount of Gold you break up supply and demand relation and you can't lock the pricing within that range… makes sense?
So as countries are forced to phase out the previous Fiat currencies and increase internal demand and productivity (remember the new system is ASSET BACKED not only GOLD BACKED!) to stabilize exchange rates, local currencies, local exchange trade systems, commercial credit circuits and cryptocurrencies become more efficient because they are non-competitive. They are collaborative.
So my point is: it HAS to be complemented by local and innovative means of exchange, otherwise society will break up under the lock down of J.I.T.'s (Just In Time) delivery systems worldwide.
That's why I believe the "New World Order" and one world currency thing is technically not a viable option…
Think about it… what good is for a company to bring bananas from Colombia by plane if the trucks which take them to the local retailers are off line because the truck drivers don't eat, don't pay their utilities bills and don't have enough fuel to power their trucks?
All would grind to a halt.
Of course the transition to more local sustainable solutions and non toxic and clean technologies will change all of that, and erase the use of fossil fuels and all. But that's not in the immediate future after the financial re-definition.
Eventually in 10 to 20 years we can even get to a cashless society.
To get there however we must have a transition infrastructure to allow the economy to be REALLY free.
To be FREE it means the markets and trade must be FREE to their core. That includes means of exchange and trade with something we don't have now which is called true Price discovery in whatever currency suits better 2 particular individuals or entities – the fair and intrinsic value of things gets the focus here.
There are some real and founded concerns about this being just another "New World Order" trick to re-boot the system, give us a slack for a certain period of time and drive everybody to ecstasy with a "Global Debt Jubilee" for let's say 5 years, and then after microchipping every being on this planet, ban cash all together, force everyone into using e-cash and then, SLOWLY (as usual), start banning basic freedoms and tell you where to put your money, giving special grants to their slavery and mass poisoning department.
So IF the New System is just a change to an asset backed system without a full and complete liberalization of the currency market I'll get really really nervous.
Either is and agenda driven Reset or a something benevolent that's going to release all chains of financial slavery on this planet one thing is for sure: they have to boost the real economy and dump the unproductive and parasitic areas of the economy.
Why? Because it's a drag on everyone who wants to get on to the next level of existence, either they have a benevolent agenda or not.
So money eventually has to flow for reconstruction in either case. Here lies the thin red line where eventually the two timelines can split: the Good and the Ugly.
One easy way to find out the real agenda behind world events is to follow the money. You should watch out for what "humanitarian" or prosperity or whatever supposedly grass-roots initiatives get funding.
If you see unbalances like one particular area gets more funding and help for no good reason, or that funding goes to the same kind of projects managed by the same sort of people with similar profiles and intentions, you should get suspicious also.
Of course with the euphoria of the debt jubilee nobody would notice after five years that we would be again on Fiat standard, courtesy of the New World  Order Babilonic Magic Slavery Money System  V2.0, this time with a plus, the customer service processing of complaints and objections would  have just an automated response…
"We appreciate your concern and apologize for the inconvenience, but please tune in your bio-microchip into the following frequency(…)". And the dogs wouldn't bark anymore.
This would be the Ugly Reset.
Also a side note about prosperity packages, humanitarian funds and so forth.
If you had to attend the greatest party in the Universe would you like to:
1.     Be in the group who is the party organizer commission?
2.     Be the guy who's passing by, hears the loud music and the sound of people laughing and asks if he can join the party?
3.     Be the one who opens the dance floor?
4.     Be the one that waits for everyone else to start dancing and partying so that you don't feel so awkward?
I would choose the 1 and 3 options.
Having this in mind, and metaphorically speaking, who do you believe that the guys in charge of prosperity and humanitarian funds could be?
I'll say number 2. But for that to be happening the party should be well underway. If they care to join and bring some more extra food and beverages (non-toxic ones) and bring along funny people to light on the party even more, great. Party on.
Let's make one thing clear. They didn't start it. We the surface population did it. That's the point!
Either it's a positive alliance white hat made "for the people" financial transition or the remaining cabal factions that have been selected to lead Mr Global 2.0 with nanochipping and replicators (because the other factions that have been rendered useless and are nothing more than drooling relics, and are thrown under the bus for a great public show to make us think WE won) from a technical point of view IT DOESN'T MATTER.
The system has to be asset backed and DECENTRALIZED because, if it's not assed backed it's FIAT and that seems to be the problem now, and decentralized because there's simply not enough GOLD out there to supply the needs of every trade in the world! Also multi-polar to secure the stability it needs to boost trade between nations.
If it's decentralized and multi-polar it SHOULD be free.
Now the tricky part of the story.
How to tell the difference? How to tell the Good from the Ugly Reset, financially speaking? I gave already some hints but there are a few more. The Bad one is not considered here anymore since it would be a technical failure in "rebooting" the whole thing.
Here are some useful tips, which are based on Evidence, usually ignored by mainstream academia. The important thing to retain here is to MIMIC the processes that naturally occur in Nature.
Nature has an economy of its own. Everything is interconnected and DOESN'T WORK in the way common belief systems tell you it SHOULD work. In a Natural "pristine" system supply and demand theory simply doesn't apply. Resources are shared, and emotional equilibriums tend to satisfy beings who become more focused on "being" instead of "having". Therefore the only visible economic effects of this can't be seen in excel sheets except if someone invents a test that measures a person's well-being. But even then I will cast my doubts about reliably measuring the "unseen".
My advice: skip the "financialese" and go straight to the point: the common misconception that "currency" is just "money". Maybe we should start by abolishing that myth: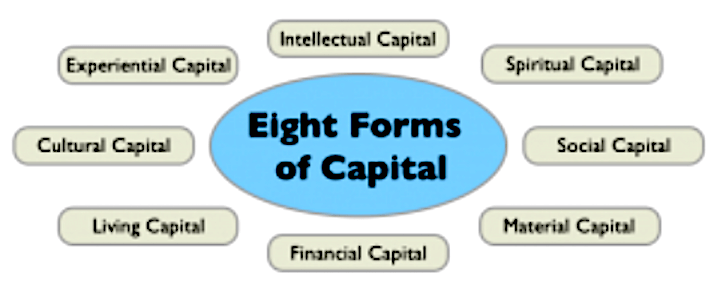 To find out more about creating natural like financial ecosystems you can visit
http://www.appleseedpermaculture.com/8-forms-of-capital/
It's very important that immediately after the Reset you start testing your local and national authorities' permissiveness towards the use of alternative exchange platforms. There are a number of already proven, with evidence based results, decentralized informal or formal platforms. The way local or national authorities support or fight these emergent flows of trade may be an indicator of their agendas and possibly occult powers. P2P (peer-to-peer) IS the word you're looking for in this case. Every process that bypasses a central control "hub" for clearance is a good one for creating abundance. No matter what detractors may say, if you organize one (or more) of the following types of platforms you'll be creating abundance on your community:
  

Local Exchange Trading Systems – good links here 

http://www.transaction.net/money/lets/

  or 

http://www.lets-linkup.com/080-All%20About%20LETS.htm

Create your own currency 

http://www.collective-evolution.com/2015/07/09/in-times-of-crisis-why-not-create-your-own-currency/

Cryptocurrencies. There are several and plenty of info on the internet. Consider creating at least a virtual wallet!

Commercial Credit Circuits 

http://www.lietaer.com/images/C3_BAL_diagram.pdf

Collaborative consumption 

http://www.collaborativeconsumption.com/

 and good old barter
You probably noticed I didn't mention micro-finance, crowd-funding and similar ones. And for good reasons http://www.humanosphere.org/social-business/2015/01/microfinance-not-quickly-lift-people-poverty-studies/ and http://ssir.org/articles/entry/microfinance_misses_its_mark/ .
I'm not saying I agree with the statement made in the last article that micro-finance is just a regular philanthropic and a pet project for some cabal members to hide their true actions but, just like any other good transformational idea in the economic arena in the 20th century it has been hijacked and subverted over time.
Moreover I have my doubts how you can micro-finance someone in a asset backed system when the system incentives for international small wire transfers get muddy. For now it still uses the money created by central banks, which is not sound money and can be used for illicit purposes, making the energy transfer between two beings much lower in vibration.
It's the SPIRIT of micro-finance that's important not the process. And the SPIRIT is the MIMIC of Nature.
Think about it. There are over 4.000 local currencies worldwide. Why bother with exchange rates and transfer fees that get parked in some internet cloud where someone in a bank I.T. bunker can make a million things with that money (that you'll never hear about) in the 1, 2 or 3 days it takes to arrive at the destination?
But the good news are that if you try to convert your financial assets now and after the Eventto the 8 forms of capital framework, you'll plant a seed with such deep roots that if someone, for some reason in the future tries to tear it down, it will probably face such a wide spread opposition that he or she will probably give up before even trying.
I would like to end with a question. Do you plan? Planning is good. Plans not always are. It helps you anticipate things and adjust more rapidly to change.
However how good can you plan with so many unknown variables at stake? Can you make a forecast when only about a half dozen people in the world know exactly what's going on and we're not one of them? Do you want to put yours and your loved ones life's in the hands of "destiny"? Plain luck maybe?
That would be just a bad plan.
This may sound controversial and even counter-intuitive for some. In times of chaos, uncertainty and sailing through uncharted waters the best way to thrive may be to use what you have and what WORKS, what's feasible and has proven to be effective.
Build a solid structure in whatever areas of life you're considering, but build it upon solid ground and afterwards co-create your vision from there. Create a safe-harbour for your community, yourselves and your country with what you have now.
Do you want to have to apply for a grant to build your vision? Isn't that what we have now? How do you want the start the coming cycle? Lowering your head and asking "where is the form for me to apply?" or with the upper hand in the negotiating table saying "we already got this party started if you care to join us…"
Which one of those is the strongest and more resilient statement?
Think about it.
Highest frequencies!